Locksmith Kingwood
Call Us Now 281-819-7057
We restore and improve the security of homes, commercial buildings and cars by repairing, rekeying and replacing locks of all types and brands. Our professional locksmith company in Texas offers both emergency assistance and scheduled services of top quality.
Some of the brands we provide service for:
Assa Abloy, Kwikset, Master Lock, Mul-T-Lock, Schlage, Yale, Best lock, and more!
Address:

Kings Crossing Drive
Kingwood

,

Texas
Zip code:

77345
Hours of Operation:
Monday through Sunday, all day

24/7 locksmith services / Fast home, office & car lockout assistance!
We accept cash, credit cards, and checks.
Our local locksmith service stands close to your problems and has the technical means and workforce to solve them quickly and meticulously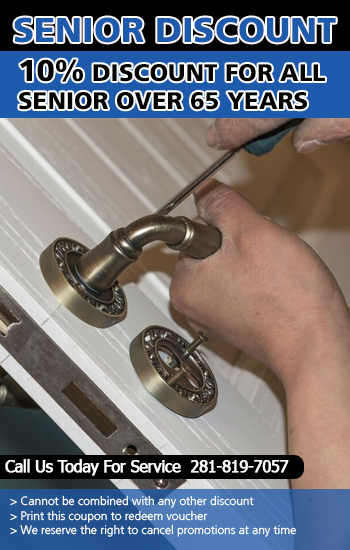 For years, "Locksmith Kingwood" has been helping home, business and vehicle owners to enjoy optimal security and convenient access to their property. Our professional company specializes in the residential, commercial and automotive fields. We offer a full range of professional services from lock and key repair to replacement and upgrading. Whether you require emergency assistance or have an entire project for security improvement in mind, we can help.
We Cover Lock Repair, Rekey and Replacement Needs
High quality and speed are the two factors which make our company a top choice for the people in Texas. Our team consists of qualified specialists who receive ongoing training to keep up to date with the latest industry trends. That is why we are experts in traditional mortice locks and in the most advanced electronic ones. The use of advanced precision tools enables us to complete even the most complicated lock repair perfectly. All of our materials and spare parts are carefully selected for their top quality. We never make compromises when we choose the items that we work with.
Rely on us to provide emergency assistance in the shortest time when needed. We are experts in emergency lockout opening. Whether you are stuck outside your home, office or car, we will come to the rescue quickly and let you back inside shortly. Our solution is always fully comprehensive. If there is a need for lock rekey or replacement, we will do the job on the spot. It is always our goal to restore the security of the property completely even when this involves a more complex solution. We are experts even in highly specific areas such as the changing of car locks and the cutting of new keys. Thanks to our precision and attention to detail, we achieve top results every time. Every task is completed swiftly even if it involves a major challenge such as a piece of the key blade being stuck inside the keyway.
All of the services in our range are available on a scheduled basis. When there is a need for latch lock or deadbolt installation, we will not only complete the job swiftly and accurately. We will ensure that you will get the most dependable and advanced device. You can count on our advicefully. Our locksmith company in Kingwood has the capacity to handle even large projects for home and office security improvement. Expect to receive full professional consultation and auditing. We will develop a full plan for increasing the level of security and implement it.
Every job that we do is based on a strict process designed for achieving top results. When we provide lock fix, for instance, we follow a set of three steps.
* Thorough inspection - We identify the symptoms of the problem and its cause. This enables us to come up with the most effective and efficient solution.
* Repair work - The repair techniques that we use allow us to complete the job quickly and immaculately. We take the utmost care when we handle the internal parts of the locking mechanism such as the cylinder and the pins.
* Result testing - We will leave only after confirming that the lock performs flawlessly and offers maximum protection.
Reliability is another major reason why our locksmith services are used by an ever growing number of customers. We respond to requests for help in the fastest possible manner. Our customer support specialists are readily available to answer all questions and to make you feel at ease in a difficult situation.
When you choose us, we will ensure that you receive the best solution from the most qualified specialists in the local area.
Receive the fastest emergency locksmith assistance from our professional company. All homeowners, businesses and car drivers in the area with zip code 77345 can take advantage of our scheduled services as well. We repair, replace and rekey locks perfectly by using the most advanced equipment in Texas.